With thanks to Tori, charlie, Donnifer, Cody and AlexHilly!
WOTW NEWS
Congratulations to our Workers Of The Week for the past two weeks Hyperboy93 & Cody403!
Keep up the good work!
Getting to know our allies
NOPD is allies with many of the agencies. These agencies host events that NOPD is welcome to join the fun! I love being able to represent NOPD when I visit USDF, they are very kind pixels. Sometimes other agency members come over and join our events as well. I love being able to play with other members as well as guests, it's a good time to play with old friends and make new ones! - i.m.t.o.r.i
Old to new
I've spent many years working in Habbo agencies, meeting the weirdest and wonderful people they have helped my journey along the way. From first joining NOPD 2013 to currently working under Dylan4004 in the current NOPD I have noticed many changes since my return. Upon my return, I was pleased to see some old familiar faces still working in NOPD as well as many new ones. In this article, I would like to address the following that I have experienced so far.
Recently I've noticed that higher-ranking officers are sometimes breaking the code of conduct in various ways, all the way from unprofessional uniforms to using excessive caps in the base. I would like to see this problem phased out in NOPD. High ranking officers are setting an example for the lower ranking officers and must act professional all times. Moving on from that minor issue I'm pleased to see the level of communication the higher and lower-ranking officers have together during games held by the events team. I would like this time to say thank you for reading and to keep up the brilliant work everybody! – Charll1e99-1999
Vortex Alliance
Hi the names cody403 I'm newly up and coming writing here at NOPD I have the greatest privilege to sit down with some awesome ppl at at your alliance vortex. I started asking them questions about things they like it was a good turn out. Couple of the workers there were really friendly and helpful like one person liked monkeys and another person said they liked dogs. One of their favorite things to do on habbo was hanging with friends I also even asked what they thought about being in a alliance with NOPD and they were happy about it and they also welcome enjoy doing more social events. It was a great experience there most there works are very friendly. Well that's all I have thanks for joining me on my first bulletin here at NOPD. Next week I'll be focusing and another alliance of ours.
Thank you, by cody403.
NOPD and AIM Confirm Alliance!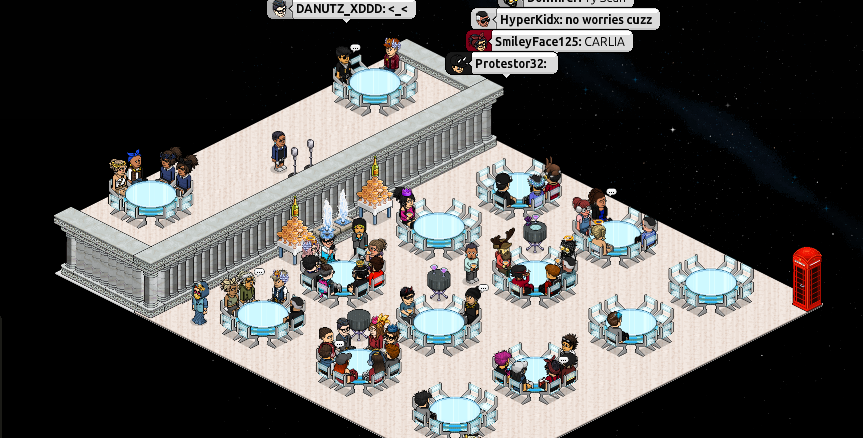 On a day which we all believed was a collaborative event we were delivered a rather nice surprise by the announcement that NOPD and AIM had joined to make an alliance. The event began by us all being seated in tables of eight intermixing with the AIM personnel, after a brief 10 minutes of talking to each other the event began by Ego? (AIM Co-Owner) taking to the mic first.
HELLO, Welcome everyone to our ceremony.
Today we are here to proudly announce,
Well formally announce.
The start of the Alliance between NOPD and AIM.
We in AIM have been very happy that this has finally been setup.
Although we agreed to the alliance I believe last Saturday.
It's been fun keeping it on the down low, to surprise everyone.
But finally here we are,
We in AIM are really looking forward to collaborating with you guys and meeting all of yall.
So for now, I'd like to give the spot to NOPD
xXThexCodeXx - NOPD Deputy Founder then took to the mic
Good Afternoon Everyone! For those of you that don't know me my names Jesse
I'm the Deputy Founder and Director of EA at the NOPD.
First off i'd like to thank everyone in attendance,
For coming together with us and celebrating this day of unity and friendship
I'm very excited to start this partnership with AIM,
not only because of my prior history with AIM
but because i'm very proud of how far AIM and NOPD have came.
We both opened around the same time and both
have achieved so much in such a short time.
Further proving that agencies can still start fresh and still make it
The Future is very bright with AIM and NOPD and i'm so excited to be a part of it.
To The AIM founders,
I'd like to thank you for the opportunity for allowing me to speak during this ceremony
and for hosting all of NOPD as we celebrate this great day.
I see great alliance already forming between us and I hope
that it's one that'll last as long as both NOPD and AIM are in existence.
On behalf of myself and my fellow Founders of NOPD,
We swear to always be there for AIM in there times of need and times of triumph.
We swear to always treat AIM and its members with respect and dignity.
On this day i'd like it to be known on 3/30/2019 the coming together
Of two great agencies NOPD and AIM as we officially become allies!
With all of this being said I thank you all for listening and coming!
We'll see you all very soon for the next great event between NOPD and AIM!
This event was a great success and even got to dance as we celebrated our new alliance with AIM.
Two winners at the event were selected to win 100c each!
NOPD - DANUTZ_XDDD
AIM - SmileyFace125
Congratulations to the both of you, spend it wisely!
Thank you to everyone who attended the event and made it a great success!
(Party time)
DONNIFER INTERVIEWS Cody403!
This week I was able to catch up with Cody403, aka SeattleWA91! He's been announced as the latest worker of the week. He's currently on the prowl for his first PA so I'd be putting on my best performance around him! Let's get into it!
Don: congratulations on being worker of the week! you've seemed to really adapt and excel within nopd since starting. any advice for anyone striving to become wotw?
Cody: Thanks, I really love NOPD. My best advice would be to work hard and fellow rules and be active as much as possible.
Don: since starting, you've made quite the impression professionally and personally! what's your favorite memory thus far while being at NOPD?
Cody: My favorite memory so far is having such great ppl to chat with.
Don: and who's your favorite person
Cody: So far, my favorite person at NOPD would have to be Nabz just for the fact he's a huge fan of batman just like I am
Don: yeah, I think we all love nabz honestly. since you're getting up in rank, do you plan on having a PA soon? as if so, what would you look for?
Cody: True that he's awesome. Yeah, I do plan on having one I'm actually looking for one at the moment I want someone that's like and that's a hard worker and that can listen really well and I can mentor.
Don: sounds like they'll have a wonderful mentor. outside of Habbo, what hobbies do you have and what do you enjoy doing?
Cody: Yes, they indeed will. Well my hobbies outside consist of baseball since I've played for 9 years and I also enjoy playing video games and listening to music and going on hikes and going camping.
Don: hiking and camping in Washington state is one of the best places in the world! what's your current favorite game and on what platform?
Cody: It definitely is beautiful here in Washington state. So far, my favorite games are Assassins Creed and Tom Clancy the division 1&2 and ps4 pro.
Don: want to drop your psn name so people can add you? once the raid releases, people are going to need help!
Cody: Yeah, I would love to and I'm always willing to help ppl. My psn is horizonLU00.
Don: awesome! thank you so much for your time seattlewa91! or as other people call you, Cody. any final words or shout outs you'd like to give?
Cody: Thank u so much and yes, I would like to give a shout out to everyone at NOPD and I love them all like family and Go Seahawks!!!
What NOPD is listening too?
Blingcool!: Behind Blue Eyes - The Who
Arachne!: I'm back to my Roots - The 1975
Isaacgreengiant: Piece of your heart - Meduza
AlexHilly: Longshot - Cat fish and the bottlemen